Message from the President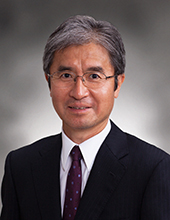 Professor Koichi Tadenuma President
Over its long history, Hitotsubashi University has developed into one of Japan's leading research universities in the social sciences. It has shown particularly strong leadership in academic research with practical applications, such as research that contributes to solving issues and redesigning systems in society, the economy, and the law, both in Japan and worldwide, as well as research that helps improve business management, while at the same time placing similar importance on the fundamental and applied theoretical research that lays the groundwork for solving social problems.
Through its unique teaching system focused on small-group seminars, Hitotsubashi University also provides an education that values each student individually, and has thereby produced many graduates who have shone in their chosen careers. The distinctive character of Hitotsubashi University is twofold: the faculty continually apply themselves to high-level research, while at the same time they provide intensive teaching, as the system of seminars with an average of seven or eight members allows them to work closely with their students. Students emerge from this favorable environment equipped with the ability to identify and solve issues based on their in-depth specialized knowledge, together with a broad-based liberal arts education—ready to contribute to social, economic, academic, and cultural advancement in Japan or in the global arena, as many of our graduates have in fact done. Hitotsubashi graduates are highly regarded in every sector, above all in the business world. We are now seeking both to live up to this long tradition and, in an increasingly globalized society, to take the evolution that the university's history represents a stage further, so as to become a seat of research and learning at the highest possible level.
As competition intensifies among nations, organizations, and individuals, the world confronts serious problems such as wealth disparity, poverty, economic instability, environmental pollution, conflicts at the state and corporate levels, and the graying of populations. It will take the collective wisdom of the social sciences to solve these problems. Hitotsubashi University will pursue leading-edge research oriented toward solving these global issues and improving society, companies, communities, and other systems. With these goals in view, we will become still more active in joint research, drawing on the international research networks that we have formed through our participation in large-scale projects such as the 21st Century COE (Centers of Excellence) and Global COE programs. In 2014 we created the Hitotsubashi Institute for Advanced Study, and with the Institute as its nucleus the caliber and international nature of our research will be enhanced still further. Hitotsubashi can also boast one of Japan's finest university libraries, which forms a solid foundation for scholarship and education and also plays a role in international scholarly communication.
The changing times require that we constantly bring new resources to preparing our students for their careers. Hitotsubashi produces graduates who have the flexibility to keep pace with the needs of an increasingly global world and who can contribute to contemporary society. Thus, in addition to teaching English as a communication skill, we offer overseas study visits and internships that allow students to experience and understand real-world situations at first hand. These programs are preceded by thorough preliminary studies and include ample opportunities for direct contact and discussions with businesspeople, teachers and students, both in industrial nations and in the developing world.
We also offer a wide range of six-month and one-year overseas study programs. In the 2014–2015 academic year, scholarships made possible largely by the financial support of Hitotsubashi University's alumni association, the Josuikai, enabled more than 90 students to study overseas in medium- to long-term programs, mainly at universities with which we have academic exchange agreements, and we intend to increase further the number of participants in such programs. At the same time, we host numerous international students ourselves: over 700 students from 48 countries were enrolled at Hitotsubashi in the 2014–2015 academic year, creating a truly cosmopolitan campus environment.
Though it ranks today as one of the country's leading universities in the social sciences for both research and education, Hitotsubashi University traces its origins to a small practical training school. In 1875, Arinori Mori privately founded the Commercial Training School, which later expanded into the Tokyo Commercial School and then the Tokyo Higher Commercial School as, during the modernization process that followed the Meiji Restoration, it gradually developed into the main institution in Japan responsible for practical education relating to commerce. In 1920 the status of the school was raised and it became the Tokyo University of Commerce. Since about this time, the university broadly extended the scope of its education and research to encompass not only commerce and management but also economics, law, sociology, and the humanities, such as philosophy and history. After World War II it changed its name to Hitotsubashi University and became a university specializing comprehensively in the social sciences. Today, Hitotsubashi University consists of the four faculties and graduate schools of Commerce and Management, Economics, Law, and Social Sciences, together with the Graduate School of Language and Society, the Graduate School of International Corporate Strategy, the Institute of Economic Research, and two professional school programs, the School of Law and the School of International and Public Policy.
At Hitotsubashi University, students can specialize in virtually any area of the social sciences. Moreover, the barriers between disciplines are traditionally low, and students are encouraged to take a wide range of subjects from other departments. They are also able to take subjects in the natural sciences and other fields at universities that belong to the Tokyo Consortium of Four Universities, which consists of Hitotsubashi University, Tokyo Medical and Dental University, Tokyo University of Foreign Studies, and Tokyo Institute of Technology, and the Tama-Region Five National University Educational Alliance. Such arrangements lie behind one of Hitotsubashi University's distinctive features: its ability to produce well-rounded students who have a broad-based knowledge of the liberal arts in addition to in-depth specialized expertise.
Hitotsubashi University will mark its 140th anniversary in 2015. Its history has been a process of steady development in both the scope and the depth of its research and education. Going forward, by further strengthening Hitotsubashi's distinctive character as a university that pays personal attention to each student's education even as it leads the way in research, we will continue to live up to this tradition as we fulfill our role as a center of leading-edge research and education in an increasingly globalized world.