Prevention of harassment
Harassment is ...
Harassment is behavior that not only violates people's human dignity and personal rights, but also infringes on their rights to enjoy a good environment in which to learn, teach, do research, and work.
Harassment occurs in many forms, including sexual, academic, power, and alcohol harassment. Some cases involve several different types of harassment.
Prevention of harassment
Hitotsubashi University has the duty and responsibility to protect the above rights.
To fulfill this duty and responsibility, and to help ensure that everyone in the University community can fully exercise their abilities, the University has formulated guidelines that include measures to prevent and eliminate harassment.
The University has also established a Harassment Consultation Office.
Examples of 4 types of harassment
1. Sexual harassment
Making remarks such as "Because you are a man" or "Being a woman, you are in no position to…" in class or the workplace.
Putting pressure on someone to give up either marriage and child-bearing or their job, citing a negative influence on research and performance.
2. Academic harassment
Without due reason, setting limits on research or giving unfair assessment of a student's performance.
Without due reason, refusing to allow a student to change their principal supervisor.
3. Power harassment
Making inappropriate remarks regarding ability and personality.
Deliberately withholding essential information about work.
4. Alcohol harassment
Coercing someone into drinking.
Harassment Consultation Office
The Harassment Consultation Office at Hitotsubashi University (Kunitachi Campus: Lecture Building 1, West Campus) has professional advisors ready to provide consultation to students, graduate students, faculty and staff about any form of harassment. If you feel that you have been harassed, or are worried that you might have harassed someone, please feel free to contact us.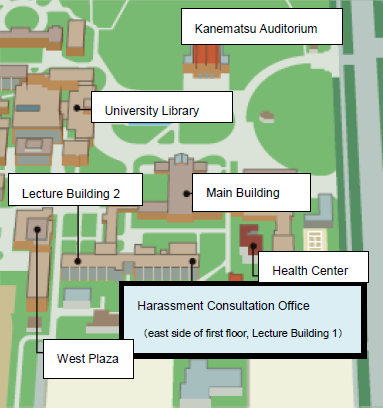 Harassment Consultation Office
| E-mail | TEL |
| --- | --- |
| harassment.g@dm.hit-u.ac.jp | 042-580-8148 |
To make an appointment
Please contact us by e-mail or telephone to make an appointment. The office is open on Monday, Wednesday, and Thursday 10:00–12:00 and 13:00–15:00. When making an appointment, please provide the following information: your name, your department or program, and the date and time you would like to meet us. Your privacy and personal information will be strictly protected.
The Grievance System
First, request advice at the Harassment Consultation Office.

If it is deemed necessary to make an official request to resolve the issue, one of three procedures will be followed: request for guidance, request for conciliation, and request for measures against the other party.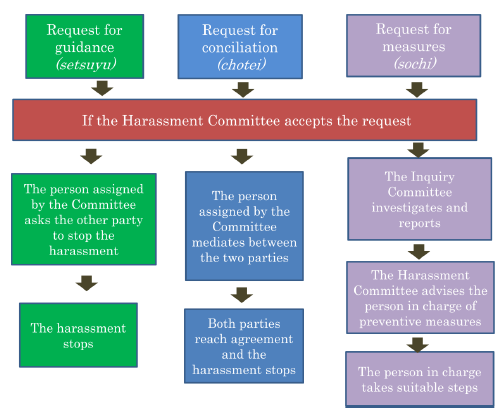 External Resources Available