Vice-President Christine Musselin of Sciences Po Visited Hitotsubashi University
On June 21, 2018, Vice-President Christine Musselin of Sciences Po visited Hitotsubashi University.
Institut d'Etudes Politiques de Paris, commonly known as Sciences Po, is a highly selective French university specialized in social sciences, renowned for many notable alumni both in the private and in the public sectors within France and across the world.
Since the conclusion of exchange agreement, Sciences Po and Hitotsubashi University have developed a cooperative relationship through academic and student exchanges for years. Furthermore, President Frédéric Mion of Sciences Po is a committee member of the Round Table for the Advancement of the Social Sciences in Japan, which Hitostubashi University launched in March 2018.

Vice-President Musselin was welcomed by President Koichi Tadenuma, Vice-President Hiroshi Satoh, and Vice-President Satoshi Nakano in Hitotsubashi University. The group had a lively discussion on various matters including the progress of the Roundtable and the further development of International cooperation.

The meeting then continued as Professor Hiroyuki Okamuro, Dean of the Graduate School of Economics, Professor Takashi Oshio, Director of the Institute of Economic Research, and Associate Professor Yoshinori Fujikawa, Associate Vice President for International Affairs joined the discussion. They exchanged views on the progress of the research activities at HIAS Health and research and education initiatives on Evidence-Based Policy-Making (EBPM). Through this visit, they confirmed that both institutions will further enhance the research and education partnership.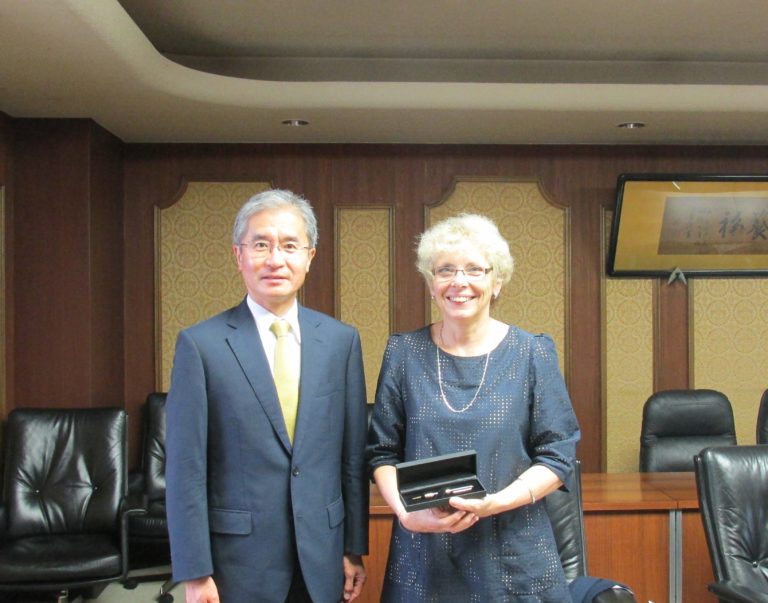 President Tadenuma and Vice-President Musselin
From left, Associate Professor Fujikawa, Vice-President Nakano, President Tadenuma, Vice-President Musselin, Professor Oshio, Professor Okamuro